---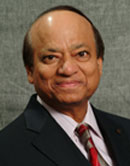 For over 30 years, Dr. Thubrikar has been a leading authority on the aortic valve. From 2007 to 2010, Dr. Thubrikar served as Director of the Biomedical Engineering Program and Professor of Mechanical Engineering at the South Dakota School of Mines and Technology. Previously, Dr. Thubrikar served as Edwards Distinguished Research Scientist at Edwards Lifesciences Corp.; as Director of Biomedical Engineering at the Heineman Medical Research Center at Carolina's Medical Center with a joint appointment at the University of North Carolina; and as Director of Surgical Research in the Department of Surgery at the University of Virginia Health Sciences Center.
Dr. Thubrikar authored 2 of the leading textbooks in cardiovascular studies: The Aortic Valve and Vascular Mechanics and Pathology. The Aortic Valve is an indispensable guide to those designing bioprosthetic heart valves.
He has also authored over 100 publications and numerous book chapters on cardiac pathophysiology and devices, and is a Fellow of the American Heart Association (AHA). Dr. Thubrikar has been on the editorial advisory boards of several prestigious journals and served as a consultant to many multinational, cardiovascular device companies.
Dr. Thubrikar has received research support from the National Institute of Health (NIH), the AHA, and the private sector, and has served as a reviewer for research grants at the NIH, the AHA, and the National Science Foundation. He has been an invited speaker at several international symposiums.
Dr. Thubrikar holds a Ph.D. in Biomedical Engineering and an M.S. in Materials Science Engineering from New York University, and a B.E. in Metallurgical Engineering from Nagpur University, India.